Aquaglide Navarro 110 Inflatable Single Kayak
An intermediate cross-over touring boat, the Navarro gets you out and paddling in all weather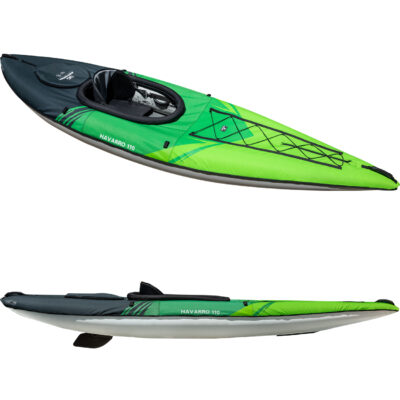 Named after the Navarro River, these inflatable kayaks incorporates features to handle the unknown. With industry leading drop stitched floors, HexShell covered pontoons and removeable zip on decks, this line offers a vessel that takes to the water rain or shine as a value line of boats
Perfect for a single paddler out for a day or more of fun. A good choice for recreational paddlers looking to enjoy great times on the water. Designed for touring and all-around use, this is a fun kayak. Aquaglide construct the Navarro 110 from HexShell material. The floor also utilizes Aquaglide's HardBottom Floor which is a high pressure drop-stitch technology that results in optimal stiffness and performance. With its long waterline and piercing bow the Navarro 110 provides great tracking and glide, allowing coverage of long distances.
The adjustable comfortable Core 2 seat enhances the paddling experience with its inflatable base and also high backrest. The seat has plenty of storage features such as mesh pockets. Kayakers of varying sizes can easily move the seat.
Features
Halkey-Roberts and Boston type valves
Carrying handles
Over-sized carrying bag with backstraps
Zip open storage compartments
Bungee storage straps
Paddle keeper
Adjustable Core 2 seat (with additional loops, floor clips and back straps)
Drain plugs
Removable quick-release tracking fin
Included in the box: Carrying bag, instructions, fin, Core 2 seat
Dimensions: L 11'4″ x W 34″ | L 345cm x W 86cm
Weight: 28lbs | 12.7kg
Capacity: 300lbs | 136kg | 1 Person
A longer and covertable single, the Navarro 130 and a double, the Navarro 145 are also available.
Furthermore, customers can unleash the full potential of these inflatable kayaks by using one of Aquaglide's High Pressure Pumps. Customers need to purchase pumps as well as other accessories separately.
We are also here to help too, feel free to get in touch and we can help with pricing and details, please call +852 2827 5876 or use our contact page.
We tend to order Aquaglide products direct from the manufacturer rather than hold stock. More information about Aquaglide can be found on their website www.aquaglide.com