Aquaglide Airport Classic – Inflatable Lounger Platform & Towable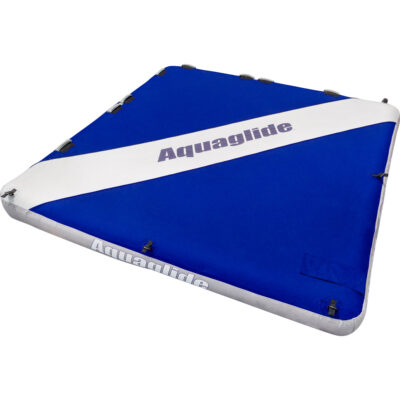 The Aquaglide Airport Classic balances performance, style and value in a very versatile platform. Perfect as a lounger, swim raft or launch pad for any watersports, the Aquaglide Airport Classic can also be towed with up to three people on-board. Designed primarily for residential use, the classic styling fits comfortably in any waterfront environment and is ideal as a tie on for junks and yachts. Reinforced handles for boarding, towing and transport make life that little bit easier.
An ideal addition to yachts and junk outings.
Aquaglide Airport Classic Features
Capacity: 4
Warranty: Limited 1 year
Dimensions: 7'5″ x 7'5″ (2,3 m x 2,3 m)
Height: 8″ (0,2 m)
Min. Water Depth: 4′ (1,2 m)
Aquaglide Inflatables – Perfect for junks, yachts and pools or beaches
What better way to make the day a memorable one than adding a water slide or climbing wall to the side of a junk or yacht? Clubs can create mega fun days for kids with pool obstacle courses as well as slides. You could even pitch up to your favourite bay in your yacht and set up the platforms, jungle gyms, rockers and also climbing frames for a private playground. Aquaglide inflatables are ideal for Hong Kong and Asian waters.
The Aquaglide Manufacturing Processes
Interloc
Heavy-duty stainless fittings and convenient Interloc straps for modular use. Soft webbing offers some flexibility, while remaining tough enough for years of service. Only Interloc blends the convenience of a cinch with the security of a locking connection.
UV Block
Material specially treated for high resistance to the sun's damaging rays. Also highest-grade, three-year UV coating available on the market.
Duratex
Commercial-grade, fabric-reinforced PVC material ideally suited for watersports.
DropStitch
Combines the durability of Duratex with the lightweight strength of Spectra fibers to make a very high-tech, low-profile inflatable floor.
HD Grip
Incorporates heavy-duty molded handle for convenient boarding as well as transport.
HA Weld
Hot air-welded seams for high quality and outstanding durability. Used to fuse Duratex material seams to produce clean, strong seams with no unsightly glue marks or splits.
RF Weld
Radio frequency welded seams for high quality and also outstanding durability. Process is used to fuse Duratex material seams producing clean, strong seams with no unsightly glue marks or splits.
Three-Year Limited Warranty
Limited warranty against any and all manufacturing defects.
Due to space constraints we do not stock a lot of Aquaglide products in Hong Kong but work with customers to get the best options available, this includes newest models, colours and accessories.
Please go to the official Aquaglide site www.aquaglide.com to see the full range of options and extras. We are here to help too, feel free to get in touch and we can help with pricing and details, please call +852 2827 5876 or use our contact page.