Aquaglide 12V Turbo Pump
Extremely powerful 12v electric pump for watersports and Platinum™ aquapark items.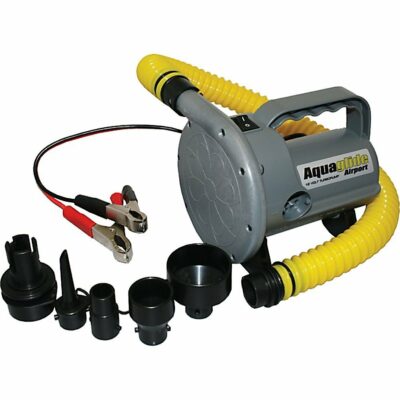 Not your standard 12v pump, the Aquaglide 12V Turbo Pump is an extremely powerful portable pump for your boat or car. Specifically designed for inflating towables and large aquapark items to the proper pressure with impressive speed (2.4 psi max). When it's time to pack up, convenient deflate option saves the day. Attaches directly to 12v battery terminals and also includes 9ft of heavy duty cable and alligator clips. Also includes Kink-proof hose with attached fittings for Stem, Boston, Rapid Inflate, Fish Eye, and Halkey-Roberts valves.
Features
33A @ 12vDC
inflate/deflate-2.4 psi max

High-performance motor

Heavy-duty ABS casing

4 different nozzle adapters fit most valves including Boston valves, Zodiac valves and Aquaglide Fastinflate valves
Please go to the official Aquaglide site www.aquaglide.com to see the full range of options and extras. We are here to help too, feel free to get in touch and we can help with pricing and details, please call +852 2827 5876 or use our contact page.