Alltek AMEC GPS Antenna – SALE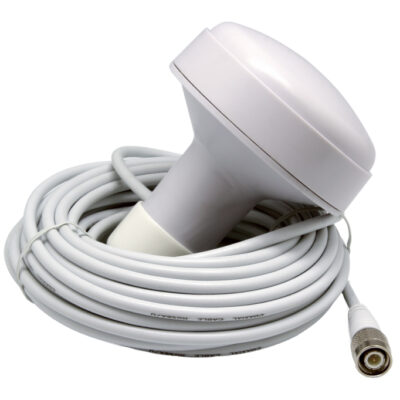 AMEC GPS Antenna is a maritime GPS antenna designed for the tough marine environment. This antenna enables the required GPS function for AIS systems, chartplotters, and also other navigational devices. Many AMEC devices are GPS ready, simply connect this antenna to see your vessel location, speed and other information.
Features
Construction: Hermetically sealed, fully waterproof
Size: 90.5 mm (D) x 108.5 mm (H)
Mount Size: 92 mm (L) x 60 mm(W)
Weight: 105 g (w/o cable and mounting)
Connection: TNC (male)
Cable Type: RG-58
Cable Length: 10m
Comes with variable position mount
Frequency: 1575.42 MHz
Gain: 30 dB typical
Noise Figure: 1.5 dB typical
Axial Ratio @ Zenith: 3 dB typical
VSWR: 1.2 typical (1.5 max)
Impedance: 50Ω
Now on SALE! Contact us now for pricing
This product is no longer the latest model in the range, however it is not obsolete it just predates the ANT-21 models. For more information please go to the Alltek Marine website or also contact us for further details.
About Alltek (AMEC)
Alltek Marine Electronics Corp., also known as AMEC, specializes in designing and manufacturing of high quality AIS products. Their solutions cover commercial, fishing, and also leisure vessels.