ACE Oyster Plastic Dinghy Tender – 2.38m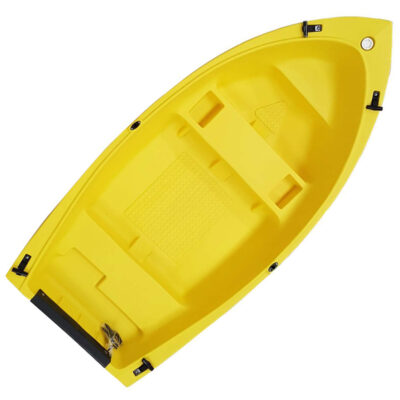 The ACE Oyster is a safe and versatile 2 person tender. Made from rotomoulded plastic this small tender is for use in harbours, lakes and also rivers. Man powered or with an engine, it comes with rowlocks and a transom plate. The Oyster also includes an integral rear wheel for easy movement on land. It can easily be stored on end or upside down as well as tied to a larger vessel.
Ideal for Hong Kong Boat Owners
Designed for 2 to 3 people the Oyster tender is ideal for use in typhoon shelters and marinas where access to your boat by sampan isn't always guaranteed. In addition its bright colours of red, blue or yellow it is easy to spot on the water.
ACE Oyster Features
Created by one of the UK's leading rotomoulders
Transom mounted outboard engine plate
Carry handles
Rowlocks for engine-less power
rear wheel for easy slipway use
Bright colours for easy sighting
Perfect for typhoon shelter use
Store upright or upside down
Red and Blue colours in stock
Specifications
Length: 2.38m
Beam: 1.17m
Weight: 37kg
The Oyster is also available in other colours, please go to the official site www.acrotationalmoulders.com to see the full range of options. We are also here to help too, feel free to get in touch and we can help with pricing and details, please call +852 2827 5876 or use our contact page.