Description
A Proven Regatta Winner in Hong Kong – Sky's The Limit is For Sale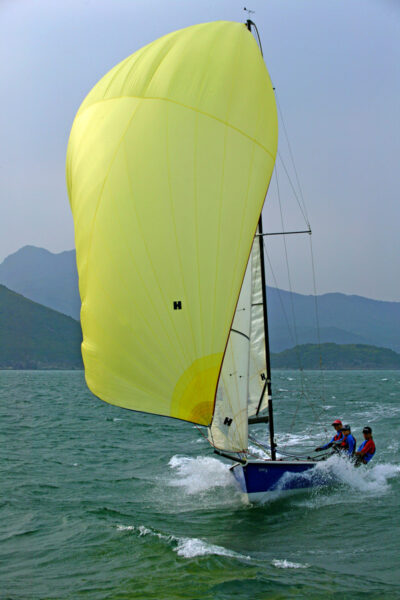 This beautiful 6.15m racing keelboat has won the Sports Boat Class Championships, Round the Island Race and the Sunset Series. In addition Sky's The Limit has placed well in most events it has entered.
The Laser SB3, now called the SB20 and manufactured by Sportsboat World, is a British-built one-design keelboat conceived as a wide appeal, affordable, competitive sportsboat for teams of three or four sailors. This is a boat that is fun, fast and easy to sail by anyone of any age; and often considered the best value-for-money sportsboat in the market.
The SB3 is all about simplicity and ease of use so that you spend more time on the water and make the most of your boat. Drop it in the water, rig it and you're sailing in about 30 minutes.
Sailing an SB3 is accessible and fun for sailors of all levels and skills. It's also highly tactical upwind, and fast and exciting downwind, which appeals to dinghy and keelboat sailors alike.
This boat is ideal for anyone looking to join a competitive, established and large fleet such as the Sportsboats in Hong Kong. The SB3 has been very competitive against other boats for a number of years and more than holds its own.
Sky's The Limit has been well looked after and boasts a new mainsail with little use as well as the jib and sinnaker only being a season old. All the sails have been stored in an airconditioned room year round. She is usually kept on the hard standing at the RHKYC's Kellet Island and Shelter Cove locations. The top cover and movable cradle are included.
Price: HK$40,000 – Contact Us for a viewing.
SB3 Boat Includes
Ready to sail, just needs crew
Main, Jib and Spinnaker sails
Practically brand new main sail
New spare rudder blade
Hard standing cradle
Boat top cover
Current SB20 specifications

LOA
6.15 m (20.2 ft)
Beam
2.15 m (7 ft 1 in)
Draft
1.5 m (4 ft 11 in)
Hull weight
685 kg (1,510 lb)
(inc. 327 kg (721 lb) keel)
Mast height
9.05 m (29.7 ft)
Mainsail area
18 m2 (190 sq ft)
Jib / Genoa area
9.3 m2 (100 sq ft)
Spinnaker area
46 m2 (500 sq ft)
RYA PN
911
The LaserPerformance SB3 is now the Sportsboat SB20, please go to the official site www.sportsboatworld.com to see the full range of options. We are here to help too, feel free to get in touch and we can help with more details, please call +852 2827 5876 or use our contact page.