Henri Lloyd Octogrip Sailing Shoe – SALE 20% Off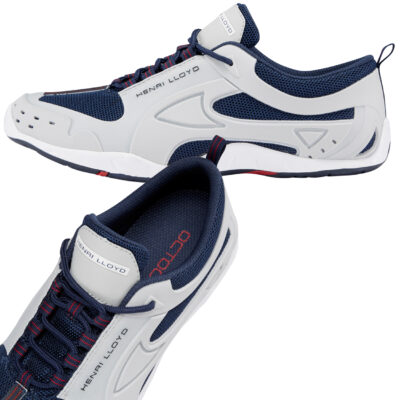 The Henri Lloyd Octogrip is the first of a new generation of performance sailing footwear that features a state-of-the-art one piece construction with the removal of all but one non-critical seam.
As with previous Octogrip trainers, lightness and super low absorbance are the centre of the design proposition. In addition, Henri Lloyd have eliminated the potential weak-spots of stitching when worn on aggressive deck surfaces when racing.
The low absorbent open-mesh upper is built to get wet and above all, dry fast. on the other hand the textured polyurethane exoskeleton with toe and heel guards provides protection on busy decks. In short, perfect for casual or day sailing use.
To Sum up, a high-performance deck trainer with a seamless design for a high-comfort, super-flexible fit.
Features
Lightweight, non absorbing, quick drying and extremely breathable
One piece upper for increased durability
Ghillie speed lacing system
Critically acclaimed Octogrip outsole with "blade technology" and permanent tread pattern for 360 degree grip
Light grey and Navy colour scheme
SALE – All Henri Lloyd Sailing Clothes Now 20% Off
Available in UK sizes 7 to 10.5 / Euro 41 to 45 (Sale item, therefore not every size may be available)
Please refer to the Crewsaver website for more information about this and other products: www.crewsaver.co.uk. For product pricing and stock availability please call +852 2827 5876 or contact us.