Description
Gerber Paraframe I – Partially Serated Pocket Knife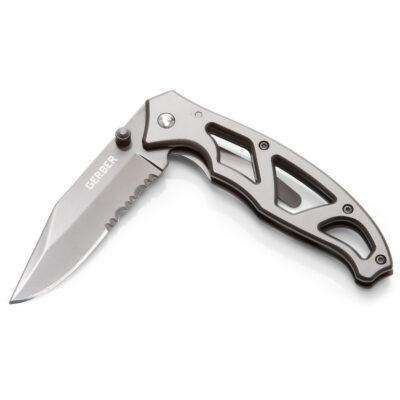 The mid-sized member of the Paraframe family, this Paraframe I knife has a 3 inch locking blade that's contained within an innovative, lightweight frame-lock handle.
Like all eight knives in the Paraframe series, the Paraframe I is based on the same minimal frame-lock design. It's a beautifully simple, open frame knife with a serrated locking blade that is lightweight, easy to clean and also opens effortlessly. Built with a smooth stainless steel handle and also a clip for secure travel. This pocket knife is everything that an everyday carry folder should be.
Features
Partially serrated blade forged from high-grade surgical stainless steel
Handle cut from 314-grade stainless steel with an ergonomic design that makes it lightweight and strong
Frame lock holds the blade securely in place
Design allows smooth, easy 1-handed opening
Features a stainless-steel pocket clip for quick access
Blade Length: 3.01″
Open Length: 7.01″
Closed Length: 4.11″
Weight: 2.6 oz
Bigger brother, the Paraframe II is also available
Also slots into a number of buoyancy aid pockets for easy stowage.
For more information about and a full product range, please go to the official Gerber website: www.gerbergear.co.uk. For product pricing and also stock availability please call +852 2827 5876 or contact us.