Description
Dagger Cayman – Sit On Top Kayak SALE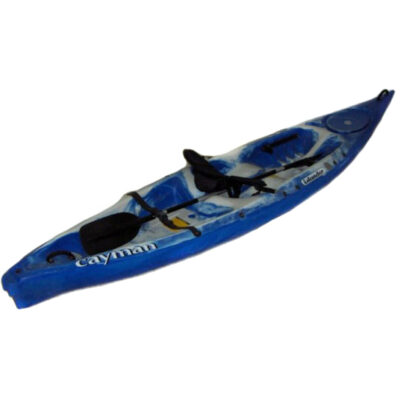 A fast cruising sit-on-top kayak. The Dagger Cayman has a wide beam and shallow mid-ship arch which increases the boats stability whilst having a speedy look and feel that you don't often get with the usual sit-on-tops. The upswept bow design keeps the boat from diving into choppy waves and swells in open water or surf.
Actual colour is orange/white swirl, not blue as in photo.
Dagger Cayman Features
Storage recess in stern for cargo
Bow cargo hatch with Sure-Seal hatch cover
Beckson day hatch
Molded-in scuppers with rubber plugs
Colour: Orange/white swirl
Seat, paddle and rudder NOT included
Photos are for reference only
Length: 12'6″ / 3m 81cm
Width: 29″ / 74cm
Depth: 10″ / 25cm
Weight: 58lbs / 26.3kg
Max Capacity: 300lbs / 136kg
We only have a couple of these left in stock as they are no longer made. This is a shame as they are infinitely better quality than some of the other brands out there selling cheap sit on tops!
Priced to sell at HK$5,100
Due to space constraints we do not stock many kayaks in Hong Kong but work with customers to get the best options available, this includes newest models, colours and accessories as well as the best kayak for the required usage. Our suppliers ship from the UK, Canada and USA.
Please go to the official site www.dagger.com to see the full range of options and colours. We are here to help too, feel free to get in touch and we can help with pricing and details, please call +852 2827 5876 or use our contact page.