Description
Aquaglide Klickitat 125 HB Inflatable Kayak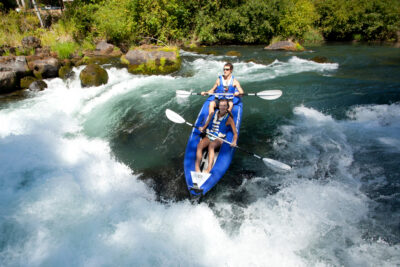 The Aquaglide Klickitat 125 HB (previously the Klickitat two HB) Inflatable Kayak is a stiff, responsive boat providing versatile all-purpose performance for one paddler. Traditional river running outline provides exceptional stability with ample rocker for manoeuvrability and also control in rough water. The Klickitat 125 HB is made with a tough, commercial-grade Duratex hull and side tubes that ensure the boat will last for years. Rigid Hard-Bottom floor adds stiffness, stability, as well as unmatched paddling performance. Fourteen accessible cockpit drains allow the user to configure the boat for self-draining. Ample cockpit tie-downs on the Klickitat provide plenty of stowage for dry bags and also other gear. Sturdy handles are positioned around the kayak for convenient boarding and transport. High performance fin system includes stiff, durable, foiled fin with unique quick-release for easy setup.
Adjustable Rugged Core seats enhance paddling comfort. They feature a high backrest with plenty of storage features, including mesh pockets, integrated fishing rod holders and also removable beverage holder. In addition, the moveable and removable seats accommodate kayakers of varying sizes.
Aquaglide Klickitat 125 HB Features
Backstraps – Backstraps help to adjust the seat to your needs and comfort
Cockpit Drain – Allows easy drainage of water from the boat
Core Seat – Durable Core seats will provide you with the utmost comfort with high backrests, mesh storage pockets, integrated fishing-rod holders, and also fore and aft seat straps
D-Rings – Heavy-duty D-rings for accessory tie-down and seating support
Footrest – Adjustable footrest improves comfort as well as paddling efficiency
Halkey-Roberts Valve – High-pressure spring valve uses common Halkey-Roberts type fitting
Infinite Adjustment – Allows for infinite fine-tuning of seat and accessory positions
Molded Handle – Sturdy molded handles are ideal for boarding and transport
Quick-Release Fin – Stiff, durable, high-performance fin connects with convenient quick-release
Comes with kayak travel bag
Dimensions: 2'6″ L x 36″ W (381 cm L x 91 cm W)
Weight: 28 lbs (12,7 kg)
Capacity: 600 lbs (272 kg) 1-2 Person
A smaller version, the Klickitat 95 HB is also available.
HB Floor
Expedition-grade Duratex material provides unmatched durability and performance. High-pressure HB floor creates a solid Hard-Bottom platform that is incredibly stiff and responsive. HB floor supports up to 12 psi (0,83 bar) air pressure for a hull that is as stiff as fiberglass and stable enough for standing.
Seats and Fin System
For added comfort the Rugged Core™ seats provide an array of thoughtful features including adjustable air cushion, high backrest, plentiful mesh storage pockets as well as integrated fishing-rod holders. The Fin System includes a stiff, foiled fin with unique quick-release for easy setup.
Accessories
Furthermore, customers can unleash the full potential of the Aquaglide Klickitat by using one of Aquaglide's High Pressure Pumps. Customers need to purchase pumps and other accessories separately.
Aquaglide products will be ordered direct from the manufacturer as they are specialised products. Customers can find more information about Aquaglide on their website www.aquaglide .com
For help with pricing and further details, please call +852 2827 5876 or use our contact page.